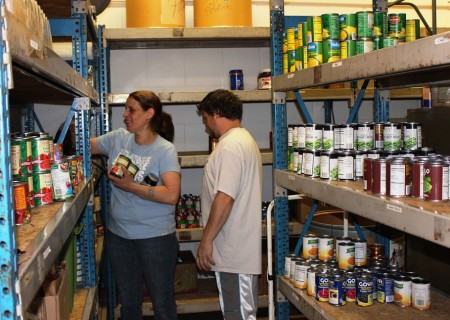 When you're finding it difficult to afford the food you need, Claymont Food Closet can help.
Regular access to nutritious food is a basic need many of our neighbors struggle to meet. Claymont Food Closet is dedicated to providing fresh, healthy foods to the adults and children in our community with low incomes who are experiencing hunger or are in danger of experiencing hunger.
Claymont Food Closet provides groceries to Delawareans in need with priority given to people living in the following zip codes: 19703, 19803, 19809, and 19810.
We offer an array of fresh, frozen, and canned items, including proteins, fruits and vegetables, cereals/grains, and dairy. Our goal is to provide each household with about 3-4 days of food each visit. The type of food and amount we can supply depends completely on the donations we receive and items available to us from the Food Bank of Delaware and USDA.  We may also have personal hygiene and household items depending on availability.
If you live outside of our service area, please call 211 to get connected to other resources for food, financial assistance, as well as health and social services.
Eligibility
Eligibility for services depends on where you live and your household income. Our staff will help you determine if you qualify. You will need to bring specific documents when you come for your appointment. Our staff will review those documents with you when you call.
Appointments for Monthly Food Distribution
The Food Closet is open by appointment as follows: (a) Wednesday (1st, 2nd, 3rd and 4th weeks of the month), from 10:00AM to 1:30PM; (b) Thursday (2nd week of the month), from 3:00PM – 6:30PM; (c) Thursday, (3rd and 4th weeks of the month), from 10:00AM – 1:30PM. Appointments fill quickly, so arrange your time when you sign up. To schedule an appointment, please call (302) 792-2757 ext. 147 or email us, weekdays from 8:30am to 4:00pm.
Emergency Food
When faced with a sudden need for food outside of our normal distribution days and hours, an emergency bag of food is available weekdays from 9:00 a.m. to 7:00 p.m. when Claymont Community Center is open. This bag is meant to help people get by until they can access the additional resources they need to resolve their emergency.
Food for People Age 60 and Over
Are you a Delaware resident age 60 or over? If you qualify, you can receive free, nutritious food once per month through USDA's Commodity Food Supplemental Program. Claymont Community Center serves as a distribution site.
For more information, call (302) 792-2757 ext. 147, or call the Food Bank of Delaware at (302) 444-8129.
Claymont Food Closet typically supplies food to 500 households a total of 2,000 visits each year. This helps 1,200 adults and children in our community meet their nutritional needs.
Donating food, money, or your time are the best ways you can support our efforts!
Donate Food/Organize a Food Drive
Donated food is ALWAYS needed. We work with individual donors and a variety of organizations – such as businesses, churches, and schools – to collect non-perishable food and other grocery items. We will gladly work with you or your group to organize a food drive. It's a great way for kids to get involved in giving!
Please contact Barbara Boese at (302) 792-2757 ext. 111 to make arrangements.
The Food Closet can always use the following items:
Peanut butter and jelly
Canned vegetables
Pancake mix and syrup
Pasta and spaghetti sauce
Rice
Cereal
Canned meats & fish
Soups / Stews / Chili
Please choose low-salt, low sugar, and whole-grain items when possible. Food donations are accepted at our main reception desk between 8 a.m. and 8 p.m., Monday through Friday. Thank you for your generosity. Be sure to check expiration dates before donating as we cannot accept expired foods. For a more complete, printable list of items, click here.
Donate Money or Gift Cards
Gift cards to supermarkets and monetary donations are always helpful as they allow us to purchase food items that haven't been donated and are running low. Click here to go to our donation page.
We couldn't do this without our volunteers! There are many ways to support us. We are always looking for volunteers to pick up food from local grocery stores and businesses, sort food and stock the shelves, pack bags for distribution, or hand out food during appointments. To learn more about volunteering, click here.